Refugio Cagliero
Refugio de Montaña frente al
Glaciar Cagliero, El Chaltén.
Mountain refuge in front of the
Cagliero Glacier, El Chaltén.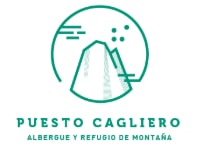 Con vista a la laguna Diablo y al glaciar Cagliero, el refugio se encuentra en el fondo del valle del río Diablo, al norte del Parque Nacional los Glaciares y a 24 km de El Chaltén.
En la reserva Estancia Los Huemules, el Puesto Cagliero brinda servicios de alojamiento con actividades de montaña. El refugio se encuentra al final del sendero a orillas del río Diablo. Son 2,5 horas de caminata para recorrer los 7 km desde el Centro de Visitantes de la Estancia.

Puesto Cagliero es una experiencia de vida en la naturaleza, con servicios tipo albergue. Sencillo y con calidez de montaña, ofrece tranquilidad para el descanso, geografía para la actividad y comunicación para cualquier emergencia.
Con 6 habitaciones séxtuples con baño, los huéspedes pueden reservar en privado o compartiendo el dormitorio. El servicio incluye desayuno, vianda o almuerzo y cena.
En el salón, en la planta baja, el refugio tiene comedor, living y paneles de información. Todo con la atención típica de refugio de montaña.
---

Puesto Cagliero at Estancia Los Huemules offers accommodation 24 kms from El Chalten, Santa Cruz, Patagonia Argentina, overlooking Laguna Diablo and Cagliero Glacier. The lodge is only reached after a 3 hour trek alongside Diablo River within an amazing untouched forest.

Our rate includes entry to the reserve and breakfast. Meals, beverages and tips are not included. We offer a 2 meal pack for an additional fee.

Puesto Cagliero is an experience of life in nature, with hostel-like services. Simple and with mountain warmth, it offers tranquility for rest, geography for the activity and communication for any emergency.

We have six rooms with 4  single beds each, with private bathroom, linen, towels and free toiletries in each room. The property also offers packed lunches.

Guests can enjoy 25 kms of self guided treks. Ice trek expedition is hired separately.

---